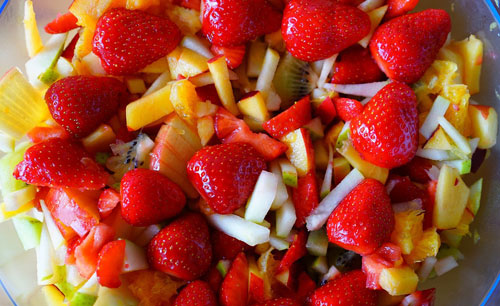 My health journey is always evolving as I am on the road to recovering my wellness. Here's a little insight into my own history to demonstrate that you are not alone in searching for answers. I'm here to help you find them as a holistic health coach and graduate of The Institute of Integrative Nutrition.

For as long as I can remember, I've had health issues. As a child I thought it was normal to have stomach pains and digestive issues after almost every meal. I remember in elementary school that nearly every day after lunch, I went to the nurse's office complaining my stomach hurt. At first, everyone thought that I avoiding math class. While I admit math is not my favorite subject, the stomach pains were not from nerves. My parents took me to the doctor to determine what was happening and after doing a lower GI complete with a barium enema – they found nothing. Yearly, I would either get strep or an ear infection at least once around the time school started in the fall. That meant at least one annual dose of antibiotics, sometimes more.

By the time I was a teenager, I'd accepted the fact that eating meant going to the restroom within an hour and spending plenty of time in there. Because the doctors had said nothing was wrong, my mother thought this was my way of avoiding the dinner dishes.

As many in my family had done before me, I joined the Air Force. Other than this digestion issue, I was a picture of health. I'd played sports in high school so based on my outward appearance and the required military physical, I was in perfect condition. Within a year of my first assignment, I met my husband. We married in 1990 and learned in our early 20's that infertility and miscarriages weren't just something that plagued older patients. After many painful years, I finally was diagnosed with PCOS (poly-cystic ovarian syndrome) and elected to undergo fertility treatment. Our children are spaced rather far apart with the largest age difference being 13 years.

After the birth of our third child in 2008, alarm bells starting ringing in my mind and I became "a difficult patient." I demanded answers and was no longer going to accept that depression and anxiety were the roots of all my health issues. In addition to migraines, I'd begun having awful symptoms such as episodes similar to narcolepsy, uncontrollable gastrointestinal issues and no control over my daily life. I finally had a physician wise enough to listen and do some proper testing. He assumed from these changes that something was going on with my immune system. Many labs and other tests were performed, finally providing the answers I'd been looking for since childhood. I had celiac disease with severe damage. This meant no more gluten in my diet, which is where the doctor couldn't offer any further guidance.. I found a local support group and a fabulous registered dietician to help me.

Unfortunately, it had taken so long to be diagnosed correctly that damage beyond celiac disease had been done to my immune system. I'm still dealing with the fall down the autoimmune disease rabbit hole. I remain optimistic that through proper lifestyle, dietary changes and necessary supplements that my autoimmune disorders will become vastly more manageable over time. Plus, I still have quite a sense of humor and a fantastic family to get me through the tough times.

Fortunately, through positive thinking, plenty of research and learning to speak up when it comes to my health and diet, I will prevail. It will take time and patience.

With just this tiny snippet of my own story I want you to understand that it's quite possible that you are NOT "just depressed" because you have health concerns. You don't have a deficiency of Prozac in your brain and although taking medication for depression and anxiety does have purpose and great value – it most certainly isn't going to cure what ails the rest of your body. Be kind to yourself. Respect your body. If you have an inner voice or intuition telling you that something is off, consider listening to it.

My life experience has allowed me to empathize with clients who struggle with chronic health issues, problems dealing with restrictive diets due to food related diagnoses and build a health coaching practice to help you begin the healing process.  Please click below for information about working with me towards improving your health.